Career
Deborah acts for a wide range of business clients helping them to resolve their disputes. Deborah's understanding of business priorities means that she strives to achieve the most commercial solution for her clients.
She progresses matters through informal negotiations, mediation or court proceedings, as appropriate.
Deborah has been involved in many high value and complex disputes which she handles with confidence.
Clients comment on her approachability and the clear way in which she is able to explain and then execute her strategy for resolving their disputes.
Deborah's experience includes:
High success rate at court
Many profitable deals brokered for clients at mediation
Particular expertise acting for care homes and schools
Noted particularly for her ability to work under pressure in emergency situations
Defence of health and safety prosecutions and environmental prosecutions
Deborah is a supporter of Young Lives Foundation.
Accreditations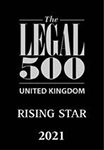 Memberships
Health & Safety Lawyers Association
Governor at Ashford School
Business Over Breakfast networking group
Testimonials for Deborah
The Legal 500 2021 – Deborah Geering - October 2020
My lawyer Deborah Geering was outstanding. To grasp the detail of a very specific commercial situation so rapidly and effectively and to deliver a solution to the dispute against very tight time deadlines was an exceptional performance in my view.
The Legal 500 2021 – Deborah Geering client feedback - November 2020
Deborah Geering recognised that despite the difficulties, I had a case that whilst it was complicated could reach the outcome I wanted. She was first class, determined and knew my case backwards which ultimately made the difference when we reached mediation as the other side were not nearly as thorough as Deborah had been. I had never had to resort to using the law to resolve an issue but in Furley Page and in particular Deborah Geering, I felt confident and reassured at every step of the way. Despite the threats from the other side Deborah always said that we would win in the end and the bullying tactics of the other side were not to be feared. Deborah is a real credit to both her firm and the law in general.
The Legal 500 2021 – Peter Hawkes and Deborah Geering - November 2020
I have worked with Peter Hawkes, Deborah Geering. Peter is one of the most experienced solicitors I work with; he always brings an impressive amount of legal knowledge and commercial wisdom to the table. Deborah is incredibly hard working and a very effective litigator.
Client of Deborah Geering – Mr Martin Gillies - September 2019
Deborah assisted us in successfully resolving a difficult case with complex issues.
Client of Deborah Geering – Mr J Pace
We had a mediation case on Friday in London in which Deborah Geering represented us.  I just wanted to say how much we appreciated her support and the speed at which she got to grips with things.  On top of getting the brief well understood, she was very personable and positive.  She was exactly what was needed to break the deadlock.
Client of Deborah Geering – Mr R Johnson
If Banksy had done this it would have hit the news, work of art!  "Really appreciate all your efforts in this … you really have smashed it out the park!
See all