Legal services

For you & your family

For business

Specialist sectors

Agriculture and rural business

Education

Equine

About us
Chatham office
Admiral's Offices
Main Gate Road
The Historic Dockyard
Chatham
ME4 4TZ
Telephone 01634 828277
Fax 01634 830056
DX 131400 Rochester 2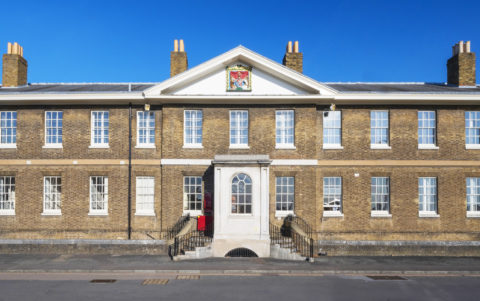 Map and Directions
By Car
From London, M2, Junction 1 and from Dover, M2, Junction 4 : Follow the A289 to the Medway Tunnel. At the tunnel, follow signs to Chatham and the Historic Dockyard.
Either enter by the main Visitors Entrance or follow Dock Road (A231) round the to the Main Gate Entrance.
Entering Chatham Town Centre from M2 and M20 : From Maidstone, Junction 3 of the M2 and the M20, follow A229/A230 for Chatham town centre and tourist signs for Historic Dockyard and Chatham Maritime.
Pick up Dock Road (A231) enter by either the Main Gate Entrance, through a manned barrier or follow the road round to the Visitors Entrance.
By Rail
By rail there is a regular train service to Chatham Station from London, surrounding districts and Dover Priory.
Entrance to The Historic Dockyard, Chatham
The entrance to The Historic Dockyard is through a manned barrier. You will be directed to free parking on arrival. Follow the road round into the dockyard, Furley Page office is in the Admiral's Offices, opposite the helipad car park.
Solicitors in Chatham
Furley Page is a leading law firm based in Kent. Our solicitors provide legal advice and exceptional service to both individuals and business clients in Chatham and the surrounding areas. We also have offices located in Canterbury and Whitstable.
Our Chatham office is based in fascinating surroundings at the Admiral's Offices in The Historic Dockyard, Chatham. A potential World Heritage Site, The Historic Dockyard, including most of St Mary's Island, is now known as Chatham Maritime. Furley Page Chatham office is as an ideal base from which we service a wide range of commercial clients throughout the Thames Gateway corridor, Kent and Medway and up towards London.
The full range of our legal services are available from our Chatham office. Fully equipped with state of the art technology, our legal teams at all our offices can connect with each other seamlessly.
Legal teams based at our Thames Gateway Chatham office are Corporate and commercial, Commercial property, Employment, Personal injury, Family law, Elderly and vulnerable client.
The Historic Dockyard is easily accessible for visitors and has ample free parking.
To enter the Historic Dockyard either go through the manned barrier from the Dock Road (A231) or use the main Visitors Entrance at the opposite end of the site.
Meeting in London
We also offer flexible meeting room space across several London locations. To find out more speak to your lawyer when making an appointment.
Other offices