Legal services

For you & your family

For business

Specialist sectors

Agriculture and rural business

Education

Equine

About us
Contested wills, trusts and probate
We know that being involved in contesting a will or family inheritance disputes can be a challenging experience.
We understand the need for expert advice if you have been overlooked in favour of another family member or friend; or if you have not been provided with the expected financial protection following the death of somebody close to you.
Disputed wills, trusts and estates services
Furley Page deals with all claims sensitively and provides practical, reliable guidance designed to keep your costs to a minimum while achieving the best outcome.
Our expert probate solicitors can help you with:
Contesting the validity of a will
Defending a will
Contesting probate with or without a will
Challenging inheritance claims
Contesting a will
Our probate solicitors will advise on grounds for contesting a will and the time limits and constraints involved in the process.
Contested wills, trusts and probate services
Choose Furley Page to resolve your inheritance disputes
You will be looked after by one of our expert solicitors who will guide you through the process step by step.  We can advise you on all aspects of contesting a will, contested probate as well as disputes arising in the administration of a deceased person's estate or a trust.
Lawyers within the team are Members of ACTAPS, the Association of Contentious Trust and Probate Specialists,  an association of expert probate lawyers specialising in the field of disputed wills.
Membership of the ACTAPS organisation denotes a badge of trust, professionalism and expertise, ensuring that clients dealing with a probate solicitor that is a member of ACTAPS can rely upon both unprecedented experience and expertise within this field of law.
Individuals within the team are recognised for their expertise by The Legal 500, Chambers UK and Chambers HNW, independent guides to the legal profession.
Contact Jeremy Ferris or Aaron Spencer to find out how we can help you.
Our team accreditations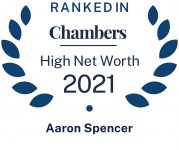 Contested wills, probate and trusts services
You may also be interested in