Career
Rachael Stibbe is a Senior Associate in the Personal Injury team. Rachael is recognised as Senior Litigator by the Association of Personal Injury Lawyers (APIL).
Rachael has practised in both Claimant and Defendant personal injury law since she qualified in 2008. She first worked for a national law firm whilst working in house for a national household insurer in 2008. She defended litigated personal injury motor claims and built up road traffic experience as well as significant knowledge of the motor insurance industry including credit hire knowledge.
Rachael moved to a large Kent law firm in 2012 advising on a wide range of mainly claimant personal injury work, as well as continuing defendant work. During that time she become a Fellow of The Chartered Institute of Legal Executives.
Rachael has a reputation as a formidable opponent, her experience from her defendant years means she can tackle insurers and achieve the best results for her clients.
Rachael joined Furley Page in February 2020 and handles mainly claimant personal injury work, as well as defendant work where required. Rachael has extensive experience in personal injury claims including motor claims, trips and slips, accidents at work, accidents on the highway, trips and slips, hypermobility claims, burns injuries, head injuries, criminal injury claims, product liability claims and professional negligence claims arising from poorly dealt with personal injury claims. Rachael also handles injury claims arising from equine accidents as well as claims involving dog attacks and accidents involving dogs.
Rachael has a particular understanding of hypermobility claims being hypermobile herself, which as a condition is often misunderstood to the detriment of the claimant who can then end up with a poor choice of medical experts and an under-valued claim settlement.
Rachael is experienced in advising clients on the prospects of their claim as well as the value of their damages and negotiating a good settlement figure. Rachael tends to handle the higher value claims and more serious injuries.
Rachael is aware of the importance of early rehabilitation for injured clients and where possible will arrange this with the at fault insurers as soon as permitted under the Rehabilitation Code. She appreciates that injured clients may require an early interim payment from the at fault insurers if they are unable to work and will arrange this where possible.  Rachael focuses on her client's recovery and treatment needs to achieve the best outcome possible for her client.
Accreditations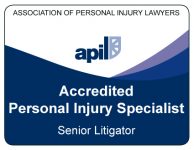 Memberships
Fellow of the Chartered Institute of Legal Executives
Senior Litigator Member of the Association of Personal Injury Lawyers (APIL)
Alumni Member of the University of Kent
Member of Kent Law Society
Testimonials for Rachael
Client of Rachael Stibbe – Mrs J - September 2023
Rachael Stibbe was very good in what she succeeded for me and most helpful all the time. A good outcome in the end. The receptionists in Furley Page were very good with communicating with Rachael, I would recommend that people use you to fight a case. She did succeed in the end. Very happy although it took just under 2 years to win my case Rachael kept going and did not give up and in the end we won. Great result, Rachael could not have done anymore brilliant.
Client of Rachael Stibbe – Ms HS - December 2022
I am absolutely delighted about the outcome. You have acted with direct and efficient communication throughout and steered me through every step so well.
Client of Rachael Stibbe – Mr W, Gillingham - August 2021
In 2019 I was involved in a RTC where I was knocked off my bike. I spent 18 months trying to deal with the insurance company myself, get little movement from them. At this point I engaged with Furley Page and was appointed Rachael who took on my case. From this point on the pressure of dealing with the insurance company was taken away from me as Rachael took on this responsibility. Rachael kept me informed all the way through the process, she gave good advice and speedily acted upon my instructions. The result of which the case was resolved within 5 months with a figure well over double of what the insurance company initial offer. A very good service and if I ever need a personal injury Lawyer I shall use Furley Page's services again. Again, Thank you for your support during this process.
Client of Rachael Stibbe – Mr W of Gillingham - August 2021
Very good explanation of the service which you were offering. I fully understood how we were going to proceed. I felt I was kept informed at all times. I was given good advice on the way to proceed and my instructions were acted upon.
Client of Rachael Stibbe – Miss H from Hythe
I instructed Rachael to act in connection with a claim for damages for my fractured wrist. I found her to be very professional and efficient and she explained clearly the procedure involved and the costs that would be incurred. I was kept informed throughout. I did not have to chase up the matter and in my opinion the claim came to a satisfactory conclusion. I would have no hesitation in recommending her services.
Client of Rachael Stibbe – Mr W of Folkestone
I have known Rachael for a couple of years now while she has been fighting my case for me. I find Rachael very approachable and easy to communicate with by either email or phone. She has always been there when needed and always seems to be one step ahead of my next question, Rachael also speaks normal English and not "Solicitor Speak" which really helps. I would not hesitate to recommend Rachael to any of my friends or family if they ever needed legal help.
Dr R, Clinical psychologist – Rachael Stibbe
Rachael has instructed me to provide psychological reports for numerous personal injury cases. I have always found her to be very professional, personable and approachable. She replies to queries promptly and her instructions are clear and concise. It is always a pleasure to work with Rachael
See all
Languages
French to A-level standard
Basic Italian