Career
Ross Rowland is a Senior Associate in the personal injury team at Furley Page. Ross joined the team in 2002 and was admitted as a Fellow of Chartered Institute of Legal Executives in 2012.
Experience has given Ross exposure to all aspects of personal injury and clinical negligence claims work from investigating liability and  breach of duty, dealing with complicated causation and medico-legal issues, advising clients regarding their damages and negotiating costs.
Whether his client has suffered a temporary whiplash or catastrophic,  life altering injury, Ross is able to consider the appropriateness of obtaining early medical rehabilitation, as well as obtaining the opinion of the most appropriate medical experts.
Ross is aware that the stress caused to clients by financial loss following an accident or negligent medical treatment can be significant and his ability to advise clients at an early stage, whilst considering interim payments, can often prove to be invaluable.
Ross also appreciates that being injured can be extremely traumatic and for those seeking legal advice concerning a claim, it also can be an intimidating experience. Ross is known for his approachable manner and he is happy to discuss potential claims at a free, initial consultation.
In 2017 Ross was recognised as a Senior Litigator of the Association of Personal Injury Lawyers (APIL).
Accreditations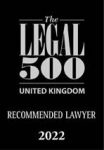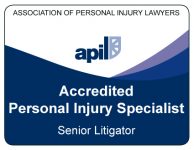 Memberships
Fellow of the Chartered Institute of Legal Executives
Senior Litigator Member of the Association of Personal Injury Lawyers (APIL)
Member of Kent Law Society
Testimonials for Ross
Client of Ross Rowland – Mr S, Gillingham - December 2021
Ross Rowland was brilliant from day one and I would recommend him highly. I couldn't have asked for anything more. I was informed every step of the way even during lockdown.
The Legal 500 2022 – Ross Rowland - October 2021
Ross Rowland is extremely efficient. He never misses a deadline. He has a great manner with clients. importantly, he has good judgment about the case and how to handle issues which arise.
Client of Ross Rowland & Kelly Richardson – Mr H, Gillingham - September 2021
It did not matter whether it was first thing in the morning or late in the evening, Ross Rowland got in touch with me to inform me what was happening. Plenty of advice, explained it in English which I could understand. Also Kelly Richardson was a big help. Ross Rowland was outstanding.
Client of Ross Rowland – Miss H of Herne Bay - August 2021
I was kept informed every step of the way as to the progress of my case. My phone calls were answered promptly and if Ross (Rowland) was unavailable he always returned my call the same day, usually within 2 hours.
Tom Bourne-Arton, Barrister – Ross Rowland
I have worked with Ross on a number of cases over many years. These cases have predominantly been personal injury claims arising out of workplace accidents. The most recent case Ross has instructed me on is a personal injury claim involving amputation of dominant fingers pleaded at over £2 million. Ross' approach to litigation is professional and courteous, whilst at the same time he strives to obtain the best possible result for his clients. He is very good at client care and he is tactically astute.
Hannah Saxena, Barrister – Ross Rowland
Ross is a pleasure to work with, his instructions are detailed and he is exceptionally well prepared. He is committed to getting the best result for clients and the preparation he puts in ensures the best possible outcome.
Edmund Townsend, Barrister – Ross Rowland
Ross is a very complete lawyer. He's amiable and easy to work with, is a model of efficiency, has sound judgment (which enables him to balance risk in cases and provide really sensible, grounded advice to his clients) but also shows enormous compassion with his clients.
Client of Ross Rowland – Mr T of Canterbury
Very happy with the straightforward advice given by Ross and always kept informed with the progress. Thank you Ross.
The Legal 500 2021 – Ross Rowland
Ross Rowland was always available, replied promptly and informed us of every step along the way. He inspired confidence in us to pursue our case and was always honest with his advice.
Client of Ross Rowland – Mr T of Gillingham
Very professional service (from Ross Rowland) with great, clear advice and recommendations.  But it was always made clear that they would go along with any decisions I made.  Wouldn't hesitate to use Furley Page for other services.
See all