Career
Neille has practised almost exclusively in Claimant personal injury law since he qualified as a solicitor in 1990.
Neille has also worked for Defendants.
His portfolio includes:
Brain injury accident claims
Psychiatric injuries
Child injury claims
Industrial disease including deafness and asbestos related illness
Wide range of road traffic accident claims
Accidents at work and public liability claims
His cases range in value from a few thousand pounds to multi-million pound catastrophic injury claims.
Acting for Claimants and Defendants has given Neille an understanding and appreciation of Defendants and their insurers which he is convinced benefits his Claimant clients.
Accreditations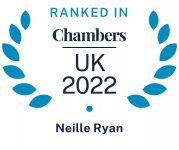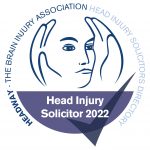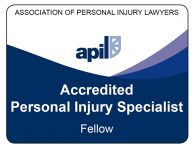 Memberships
Member of the Law Society Personal Injury Panel
Fellow of the Association of Personal Injury Lawyers (APIL)
Member of the Motor Accident Solicitors Society (MASS)
Member of Headway
Testimonials for Neille Ryan
Client of Neille Ryan – Mrs S of Gillingham - January 2022
Everything that was done for my case was always very reassuring and I had a good solicitor who cared about his client and was doing his best for you. Always available to speak to.
Chambers UK 2022 – Neille Ryan client feedback - October 2021
He has great attention to detail, fantastic client care skills and a good grasp on the law.
Chambers UK 2022 – Neille Ryan - October 2021
Neille Ryan offers experience handling RTA cases involving brain injury, fatalities and amputations. He has further strength in workplace accident claims.
Client of Neille Ryan – Ms F, Deal - March 2021
I appreciated everything you all did for me. Not only the work aspect but the kindness and compassion shown to me. Thank you to an amazing team and especially to Neille Ryan for everything and for having great patience with me.
Chambers UK 2021 – Neille Ryan
He is very easy to work with and explains everything in detail. ...He is absolutely fantastic, dealing with the matter in an efficient and compassionate manner.
The Legal 500 2021 – Neille Ryan
Neille Ryan dealt with our case in a very professional manner. He took time to talk through our situation with us, outlined the way forward and did his best for us. We are pleased that we used Neille for our case and feel that no one could have handled it better than he did.
Client of Neille Ryan – Ms O of Maidstone
I was blown away by the success that Neille achieved on my behalf. The payout was so much more than I had anticipated. I was extremely fortunate to have had Neille on my side. The other side were incredibly sneaky, but Neille outwitted them. He's a total professional and clearly an expert in Personal Injury claims – awesome.
Client of Neille Ryan – Mr & Mrs R of Herne Bay
Neille was first class in all communications and keeping us up to date with progress.  We have no criticism….. totally satisfied.
Client of Neille Ryan – Mrs C of Deal
Cannot fault your service. Staff were always polite. Prompt response to queries. Replies were always explained (no jargon) and processes clearly talked through.
Chambers UK 2020 : Neille Ryan
Neille Ryan is "very impressive: he has fantastic client care and is extremely knowledgeable in personal injury." His cases include brain and orthopaedic injury claims related to RTAs and workplace accidents.
The Legal 500 2020 : Neille Ryan
'Ryan's negotiations skills are breath-taking.' 'Neille Ryan is a hard-working and astute claimant personal injury lawyer.'
See all