Career
Robert Harvey is a part-time member of Furley Page Personal Injury team working as an Injury Claims Adviser.
Robert is no longer registered with the Institute of Legal Executives and no longer offers legal advice.
Robert now uses his vast experience in personal injury claims to advise people on the process.
The Furley Page Personal Injury legal team will manage claims suggested by Robert.
Robert qualified as a Fellow of the Chartered Institute of Legal Executives in 1976. He had vast experience in all types of personal injury claims, including work related injuries, public liability, road traffic accidents, industrial disease claims, holiday claims, sports injury and product liability claims. He represented innocent victims who had serious and multiple injuries, including brain damage, industrial disease and fatalities. He represented many child Claimants, injured through no fault of their own. Robert represented many cyclists and motor cyclists in personal injury claims. Robert had the difficult task of representing three innocent victims of the Zeebrugge Ferry Disaster. Robert represented three victims of a water contamination incident and also a serious repetitive strain injury claim. In 2007, Robert's work was recognised when we was awarded the first National ILEX Award for Excellence in Personal Injury work.
Accreditations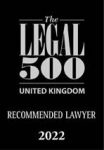 Testimonials for Robert
The Legal 500 2022 – Robert Harvey - October 2021
Robert Harvey has shown us that justice does exist under the hardest of terms and that the qualities he possesses are by far greater than any can imagine. He made us feel valued when our backs are against the wall fighting a losing battle.