Career
Sarah joined the Dispute Resolution Team in 1998 and works alongside Jeremy Ferris in the Property Dispute Team.
Sarah was admitted as a Chartered Legal Executive in May 2015 and was promoted to Associate in December 2020
Sarah deals with a wide range of property litigation work including landlord and tenant disputes (commercial and short term residential), long leasehold residential disputes, adverse possession claims, boundary disputes, prescriptive rights (rights of way or other easements) applications and "squatter" proceedings.
Sarah's work involves dealing with the Land Registry, the Courts and the Property Tribunal as a means of resolving the disputes. Sarah also advises on other means of resolving disputes which is referred to as "alternative dispute resolution" and this can involve mediations and round table negotiations.
Sarah has developed a close working relationship with many local letting agents and surveyors in order to assist them and their clients. In relation to commercial leases, the work involved can be a lease renewal, a dilapidations claim following the ending of a lease, forfeiture of a lease for non-payment of rent or other breach of the covenants. In relation to residential tenancies, the work involved can be dealing with the grant of a short term tenancy and advising on a landlord's legal obligations or terminating a tenancy for a breach such as rent arrears.
In relation to long leases of residential properties, Sarah deals with lease extensions, purchase of the freehold and service charge disputes.
Sarah's clients range from private individuals to companies and her clients may own a single property or a portfolio of properties.
Sarah is also able to assist tenants where the landlord may be in breach of its obligations by failing to repair a property or carry out the necessary safety checks. In addition, Sarah can provide advice where the deposit has not been protected by the landlord.
Sarah's approach to dealing with clients is down to earth by giving clear, practical and easy to understand advice.
Accreditations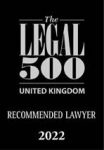 Memberships
Fellow of Chartered Institute of Legal Executives
Testimonials for Sarah
The Legal 500 2022 – Sarah Woolnough - October 2021
Sarah Woolnough is excellent and highly knowledgeable.
The Legal 500 2022 – Sarah Woolnough more feedback - October 2021
Sarah is very competent and has significant experience. She writes well, understands the problems and works towards their resolution.
The Legal 500 2021 – Sarah Woolnough - October 2020
Sarah Woolnough provided an excellent service.
The Legal 500 2021 – Property litigation feedback - November 2020
Very efficient and professional. My trust and confidence in them was fully justified.
The Legal 500 2020 : Sarah Woolnough
'I would strongly recommend Sarah Woolnough for litigation'.
Client of Sarah Woolnough – Ms B of Medway
Sarah Woolnough kept me fully informed at all times. Answered my emails very quickly and spent a long time on the telephone explaining things to me that I did not understand. She was extremely pleasant to deal with.
Client of Sarah Woolnough – Miss R of Canterbury
The Service we received was impeccable. All information was fully explained, emails were answered promptly and the whole process was as simply as it could have been. We really felt that there was a genuine interest in our case, to get the best outcome possible, we don't think there could have been anyone better. We felt they went above and beyond for us! We are very grateful to Sarah for everything that she did for us, we would definitely recommend.
See all