Career
Susan Jennings became a Partner and Head of the Corporate team at Furley Page in 2008.
Susan has worked in private practice since 1997 and qualified as a solicitor in 2000.
Examples of work include:
Acting for the shareholders of a company which was effecting a reverse take-over of a company listed in Singapore; such company being valued in excess of US$100 million.
Acting for a group of companies based in the middle east in respect of an investment of £20 million.
Undertaking the due diligence in respect of 2 UK companies as part of a wider Euro 200 million transaction.
Group refinancing work for a Kent based business. Drafting and negotiating a complex development and supply agreement in respect of a company supplying products in the aviation sector.
Susan has cross sector experience, but is particularly strong in automotive, design, manufacture and supply sectors and working with professional practices.
Susan is a member of the Furley Page agriculture and rural business team and is experienced in advising upon and drafting farming partnership agreements.
Susan is recognised for her legal expertise by The Legal 500 and Chambers UK.
Attitude can do, practical and commercial.
Accreditations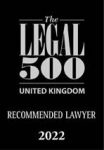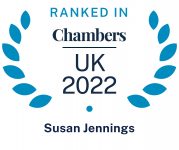 Memberships
Founder member of Kent Corporate Finance Alliance
Member Medway Economic Partnership
Sponsor, Chair and Judge of Medway Business Awards
Sponsor of Medway Start-up Scheme
Testimonials for Susan
Chambers UK 2022 – Susan Jennings - October 2021
Susan takes the time to explain things to me and lets me ask questions. She is approachable and very experienced.
Chambers UK 2022 – Susan Jennings client feedback - October 2021
Susan is experienced, practical in her advice and commercial in all her dealings with us.
The Legal 500 2022 – Susan Jennings - September 2021
Susan Jennings is our trusted adviser. Always pragmatic, solution-driven and practical in her advice. She is experienced and most importantly for us commercial in her dealings. She has a can-do attitude, is very personable and we have a good rapport.
The Legal 500 2022 – Susan Jennings feedback - September 2021
Susan Jennings is highly knowledgeable and experienced, understanding all aspects of M&A.
Chambers UK 2021 – Susan Jennings
Head of corporate Susan Jennings advises businesses in sectors including professional services and manufacturing. She offers deep expertise in corporate matters including M&A and financings. Susan is organised, efficient and good at explaining complex issues clearly.
Client of Susan Jennings – Terry Quinn
I have used Furley Page for both personal and business matters for some 20 years plus.  Some of the issues have been complex but I have always been completely satisfied and I would recommend their services without reserve.
Chambers UK 2020 : Susan Jennings
Susan Jennings heads the corporate team and offers a wealth of experience advising businesses on lower mid-market transactional matters, as part of a broad practice which also features strength in joint ventures and commercial issues. She draws praise from clients for being a "very down-to-earth and approachable" lawyer who "picks up and understands issues quickly and offers relevant and clearly stated advice.
The Legal 500 2020 : Susan Jennings
'Susan Jennings was knowledgeable and effective but she was also approachable, realistic and human which made the process easier.' - 'Susan Jennings is our first port of call - her experience continues to be invaluable.'
See all