Career
Melanie studied Law at the University of Kent, Canterbury and graduated with a First Class Honours in 2012. She then completed her LPC at the University of Law, London, obtaining a Distinction.
In August 2019 she was awarded a Merit in the STEP Diploma in Trusts and Estates for England & Wales, which is internationally recognized for inheritance and succession planning. She has also gone onto complete the STEP Advanced Certificate in Cross-border Estates, gaining a Distinction in 2021.
Melanie is also recognized and recommended in the Legal 500 for her expertise on personal tax, trusts and probate work.
Melanie is an avid University of Kent alumnus and has won the Kent Student Law Society Honorary Member Award 2018.
Through Melanie's community projects and cross-border work, she has also won the Kent Law Society Junior Lawyer of the Year Award 2017 and the Kent & East Sussex Junior Lawyers Division of the Law Society, Junior Lawyer of the Year Award 2017. She was also a winner of the Kent Law Society Covid Heroes Award 2021 for her community work with the elderly during the pandemic.
Melanie is based at our Canterbury office where she deals with Lasting Powers of Attorney, Will drafting and succession planning, administration of estates and trust creation and administration. Melanie specializes in intestacy cases and estates with a cross-border element.
Accreditations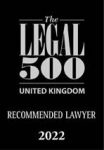 Memberships
Member of Society of Trust and Estate Practitioners (STEP)
Member of STEP Cross-Border Estates Global Special Interest Group
Member of Kent Law Society
Canterbury Young Professionals – Organiser
Active Alumna for the University of Kent
Testimonials for Melanie
Client of Melanie Christodoulou – M Dexter, East Sussex - April 2022
The advice was clear. The communication was clear and detailed. There was understanding that my father was elderly and grieving during conservations. Support staff were also helpful.
Client of Melanie Christodoulou – Mrs G, Lincolnshire - November 2021
... difficult task that was sympathetically simplified, step by step. Your services were: friendly, easily understandable step-by-step through to conclusion. Thank you.
The Legal 500 2022 – Melanie Christodoulou - October 2021
Melanie Christodoulou kept me fully informed about how the process of probate worked and its likely timescale. I felt involved without in any way feeling overwhelmed.
Client of M Christodoulou & S Bogard, G Clemas, Canterbury - January 2021
Melanie Christodoulou and Sarah Bogard previously provided a friendly and efficient service. They were both happy to answer my queries, even if needing to answer questions I had already asked. Also their responses were never delayed.
The Legal 500 2021 – Melanie Christadoulou
Melanie Christadoulou has impressed me with her organisation skills, providing advice efficiently and ensuring that she does what she says when she says she will. Communication is key when dealing with clients and it is refreshing to deal with someone like this who is consistently upfront.
Client of Melanie Christodoulou – Mrs Shere, West Sussex
Very happy with all the advice and service from Melanie – it was painless!
Client of Melanie Christodoulou – Mrs Sproul, Canterbury
Everything was clearly explained. Meeting over the iPad was easy. Melanie was friendly, gave excellent advice.
Client of Melanie Christodoulou – Mr S Hovery
Melanie is extremely professional, always clear and very thorough, throughout this whole process. She is an absolute expert in this field and I would have no hesitation in contacting her again and Furley Page for any future legal services; she is very competent.
Client of Melanie Christodoulou – Mr B & Ms S, Whitstable
Furley Page provides a friendly and professional service. Melanie kept us up to date throughout the process and patiently answered all our questions. We were impressed with the way the process was handled considering the constraints of the Covid-19 lockdown and, in particular, the way the document signing process was conducted. We would happily recommend Furley Page.
The Legal 500 2020 : Melanie Christodoulou
Melanie Christodoulou is a young lawyer who shows outstanding promise. She is thorough, efficient and reliable. She takes the time to explain everything clearly. She is very approachable and a pleasure to deal with.
Client of Melanie Christodoulou & Heather Dunlop – Ms Penwarden
Melanie was extremely helpful and responded very quickly to all questions, requests for appointment etc.  Solicitor Heather Dunlop was extremely courteous and friendly.  A personal service throughout.
Client of Melanie Christodoulou – Mr & Mrs S, Margate
Melanie is always a pleasure to work with.  She is very professional and friendly and we have always felt like valued clients.  She has explained everything thoroughly and will recommend her services to friends and family.
See all